This release, 2.4.0.0.0, is the second release described in SIP-022. It fixes a bug discovered in the stacks-increase function of the pox-2 contract and re-enables PoX on the Stacks blockchain by upgrading the PoX contract to pox-3.
TL;DR:
Stacking is re-enabled with this release
This release fixes the stacks-increase function bug identified 4 weeks ago
Updated versions of the Stacks API and stack.js will also be available soon
Timeline:
This upgrade will activate at Bitcoin block 791,551 which is currently estimated for May 26th, 2023 around 2200 UTC.
Please note that this is a hard fork. Nodes that have not upgraded to this 2.4.0.0.0 release prior to Bitcoin block 791,551 will need to sync from genesis or use a chainstate after 2.1.0.0.0.
Stacking details:
This release will take effect 400 Bitcoin blocks prior to the start of the Prepare Phase for Cycle #60.
Release activates at Bitcoin block height 791551
Prepare phase starts at Bitcoin block height 791950 (+400)
Using an estimate of ~140 blocks/day, the Stacking cycle would start approximately 2-3 days after activation, meaning that Stackers have this ~2-3-day period within which to enter Stacking and earn rewards for Cycle 60.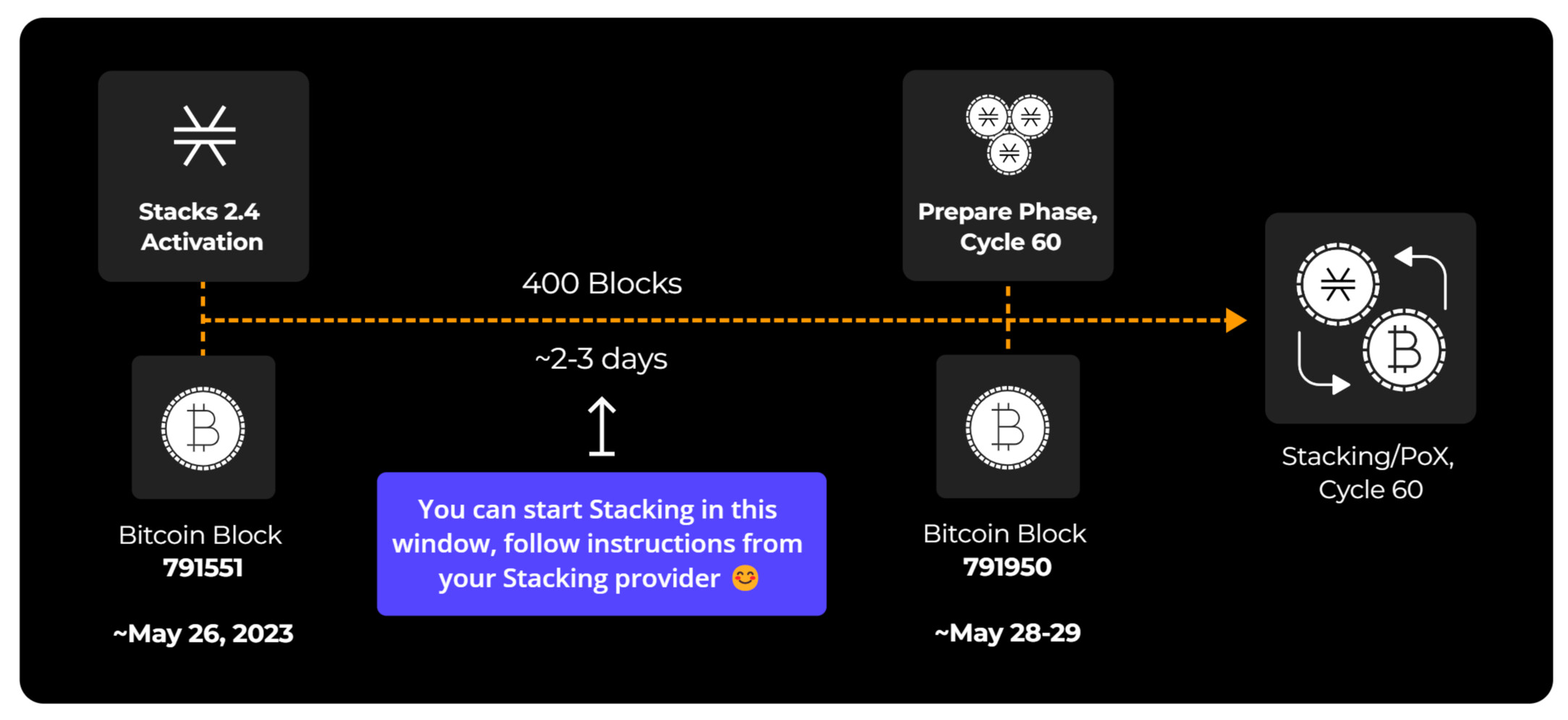 Release Resources:
Notes:
This release also includes a secondary hotfix that was uncovered during testing of pox-3 and is described in SIP-024.
Looking ahead:
Now that this and a few other key issues have been resolved through recent releases, core developers plan to turn their attention back to addressing the Bitcoin MEV and orphan block performance issues described here.
Additionally, forward progress is still being made on sBTC, Subnets were released on alpha testnet, and tokenomics research for sBTC/Nakamoto-related proposals is well underway.
Get involved:
Join the upcoming call to discuss 3rd party report/findings related to possible Bitcoin MEV solutions that was commissioned by the Stacks Foundation
The Stacks Foundation will be working with @friedger to provide a bug bounty related to the stacks-increase bug. A reminder that there is an open bounty program!
Join the open call to discuss testing and other improvements we can make to our release processes as an ecosystem.
Thank you
To the many core developers and contributors that put in late nights and countless extra hours, thank you! And of course, a special shout-out to @friedger for far too many things to list here! They never said scaling Bitcoin was going to be easy; the grit and determination of the entire ecosystem were on display these past few weeks.