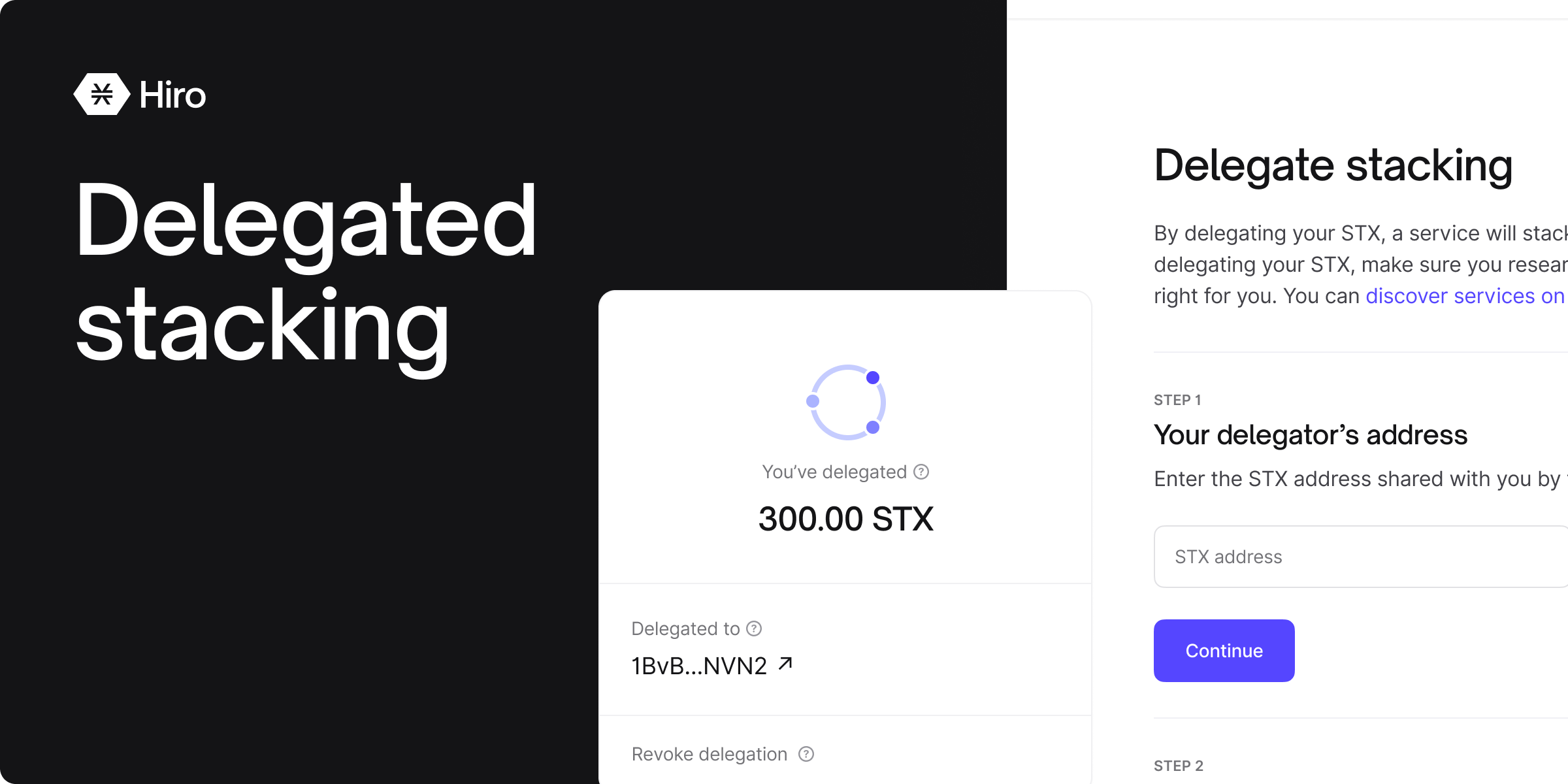 STX holders can now participate in Stacking by delegating their STX with the Stacks Wallet for MacOS, Windows, or Linux to third-party services that pool them with others, commit to Stacking and distribute BTC rewards to participants.
Download the new Stacks Wallet v4.1.0 with delegation support
This new feature is especially useful for STX holders with fewer than the dynamically set minimum (currently 70,000 STX) since it empowers them to earn BTC from Stacking with any number of STX on hand. It also keeps STX safe at all times in the desktop Stacks Wallet, especially when used in conjunction with a Ledger device.
Your STX will never leave your wallet or end up in the possession of such third-party services when participating in Stacking delegation. Rather, you'll simply broadcast a transaction that permits the delegation service to commit your STX to Stacking for up to 12 cycles (or about 6 months).
As with all forms of Stacking, STX are locked up after committed by the delegation service until the final cycle is complete. This means simply that the STX cannot be transferred anywhere or used for other purposes temporarily. However, STX holders can choose to revoke delegation at any time and this will prevent such delegation services from subsequently committing their STX to more cycles.
Each delegation service provides a STX address that users simply need to copy and paste into the Stacks Wallet in addition to indicating the maximum amount of STX they'd like to delegate.
Staked is one such delegation service who has released support for delegated Stacking this week ahead of cycle #3, which is expected to begin on Saturday, February 27th. Simply sign up for Staked and locate the STX address provided by them to initiate delegation in the Stacks Wallet.
Learn more about Stacking delegation with Staked
While users with more than the dynamically set minimum can continue to commit their STX for Stacking directly with the Stacks Wallet, delegation provides them with the option to participate in Stacking without having to re-commit their STX manually after unlocking, track cycle timing, or otherwise have to navigate the intricacies of Stacking. As such, it provides a "set and forget" Stacking option for STX holders of all sizes.
Keep in mind:
Delegation services control the distribution of BTC rewards on behalf of STX holders who delegate to them, so be careful whom you trust. Hiro PBC can't help you if the delegation service doesn't pay you.
Though you can revoke delegation anytime, your STX may remain locked up for up to 12 cycles (or about 6 months) maximum.
Always double check that you're using the correct STX address for a delegation service when entering it into the Stacks Wallet! Do not trust values provided to you by unverifiable people or entities online.