Dear all Stacks community & contributors!
Bringing you the updates from the weekly SIP call!
This week's topic was Consideration Advisory Board (CAB) members AMA with Jude.
To to join this growing SIP process (SIP stands for Stacks Improvement Proposal), I host SIP call every Friday 11AM EST, please tune in!

This week was quite an important call, because it was the first session of many CAB members getting together. To utilize the session effectively, the majority of the sessions was mainly reserved for AMA for the CAB members.

A few key topics were brought up: 1) understanding the role Chairperson plays; 2) How the board is run and how it reviews SIPs; 3) minimizing project management tasks; 4) What constitute as "activation of the CABs"; 5) How the Ethics CAB's involvement should be.

for Full Meeting notes here:
Weekly SIP Meeting Agenda · Issue #79 · stacksgov/sips · GitHub

Link to the recording: Introducing The Consideration Advisory Board (09-09-2022) - YouTube

If you wanna add this SIP event to your calendar, use this link: Events

Upcoming schedule:
- 16th Sep - Topic: SIP-019: Notifications for Token Metadata Updates
Previous weeks we have hosted these topics with many the smartest people in Stacks:
You can watch all recordings here: Stacks Community - YouTube
Week

#1

. Decentralization of mining
Week

#2

. SIP voting process & general SIP process
Week

#3

. Stacks 2.1 upgrade + Ecosystem DAO
Week

#4

. Standardization of Bitcoin derivation Path
Week

#5

. Taproot integration
Week

#6

. STX Mining report July 2022
Week

#7

. Consideration Advisory Boards (CABs)
Week

#8

. Increasing Bitcoiners participation
Week

#9

. Open Discussion
Week

#10

. 3 Proposals to improve STX mining decentralization
Week

#11

. Open Discussion.
Have a nice day! Bitcoin & Stacks for the win!

If you are interested contributing to the SIP process on any level, please feel free to reach out to me!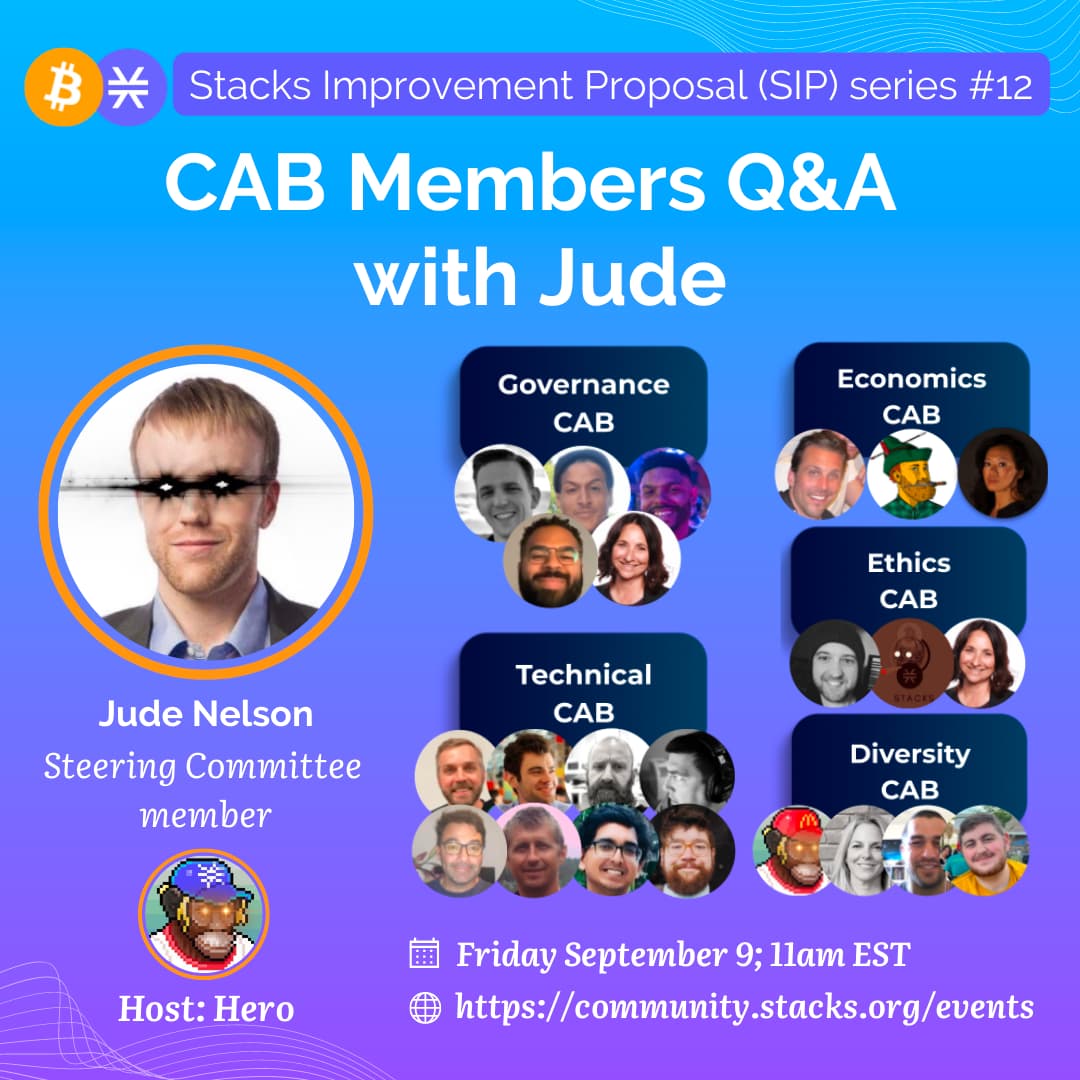 (trying out new graphic, any feedback welcome

)
A bigger thread with more details about the background and about the call on Twitter: